Posts for tag: common symptoms
By Chauvin & Chauvin, D.D.S.
February 26, 2013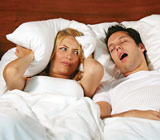 Do you constantly feel like you are running on empty? Do you snore, feel like napping every day, or even drink multiple cups of coffee just for the caffeine boost? You may have a sleep related breathing disorder (SRBD) or Sleep Apnea ("a" – without; "pnea" – breath) in which your airways become obstructed causing chronic loud snoring. The good news is that we can help both diagnose and treat this disorder, which means you will be able to finally get the rest that you (and your sleeping partner) so desperately need.
The reason that sleep apnea is so disruptive to daily living is that it causes awakening for a few seconds up to 50 times per night, significantly decreasing the amount of deep sleep that is necessary for full rejuvenation. Airway blockage during sleep commonly results from obesity, an enlarged tongue or tonsils, and other factors that can cause your airway to close off when you lie down, all increasing the likelihood that you will suffer from sleep apnea. These conditions are dangerous and impair the brain and heart from receiving adequate oxygen, increasing your risk for both stroke and heart attack.
The study of sleep and its disorders is relatively new. One successful way to treat sleep apnea is with a "CPAP" machine which uses a Continuous Positive Airway Pressure mask overnight to keep air passages open while sleeping. Another more comfortable, less noisy, and unobtrusive method is to use Oral Appliance Therapy, which features an appliance like a retainer that can be custom fitted to your mouth made by a dentist trained in sleep medicine.
And yes, dentists are increasingly being recruited to help study and treat sleep disorders. There are actually several ways in which we can help. Because we see our patients on a regular basis, we are uniquely qualified to diagnose early signs of SRBDs. For example, if you start to snore almost immediately after falling asleep in the dental chair, we will be able to discuss this important warning sign with you. We can also examine the back of your mouth to see if you possess any of the traits that point to SRBDs, including large tonsils and/or an elongated uvula — the tissue in the back of your throat that looks like a little punching bag.
So, if you want to stop snoring and start sleeping well or you think you may have a SRBD, call our office to schedule a basic oral exam and consultation. If you would like to learn more about the link between dentistry and the treatment of sleep disorders, read the Dear Doctor magazine article "Sleep Disorders & Dentistry."
By Chauvin & Chauvin, D.D.S.
November 08, 2012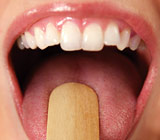 If you have ever had halitosis (bad breath), you know it can cause you to feel self-conscious and embarrassed. And while the odor is typically a primary concern, determining what is causing it is a task we can assist you with resolving. This is especially true when you experience bad breath outside of those times when you've just consumed pungent foods and drinks such as coffee, garlic or raw onions. For example, it is quite a different scenario to have family members, friends, co-workers or even total strangers consistently complaining or using body language to denote your bad breath. If the later best describes your situation — and be honest with yourself — then you need a thorough dental exam to discover the ultimate cause (or causes) of your halitosis. This is especially important because so many people are unaware that there can be numerous oral and/or general health concerns triggering their bad breath.
Most unpleasant mouth odors arise from the more than 600 types of bacteria found in the average mouth, with several dozens of these bacteria being the primary culprits for producing foul odors. And while food particles left between teeth can be key contributors to bad breath, the tongue or more specifically, the back of the tongue, is the most common location. Dry mouth is another cause for bad breath, as evident by the dreaded morning breath we all experience from mouth breathing as we sleep. Bad breath is also caused by certain medical conditions such as liver disease, lung infections, diabetes, kidney infections or failure and cancer.
The good news is that we can work with you to develop an effective treatment for your bad breath. And if necessary, we can work with your physician on a total treatment plan should your condition be due to health conditions outside your mouth. However, if your bad breath originates in your mouth, we may recommend any or all of the following to return your mouth to optimal oral health:
Oral hygiene instruction to learn the proper ways to brush, floss, scrape your tongue and use mouthwashes
Denture hygiene instruction for proper cleaning and maintenance of both full and partial dentures and bridgework
Periodontal (gum) therapy that includes professionally cleaning your teeth (scaling), smoothing your teeth's root surfaces (root planning) and possible antibiotic therapy
Removal of tooth decay where large, open cavities (caries) are present
Repair of broken fillings
Removal of wisdom teeth (third molars) with gum flaps
Treatment of yeast infections (candidasis)
To learn more about the causes and treatments for halitosis, read the Dear Doctor article, "Bad Breath — More Than Just Embarrassing."
Ready To Take The Next Step?
If you want to address your own concerns with bad breath, contact us today to schedule a consultation for an examination and treatment plan. You will find yourself smiling and laughing more once you are confident you have a clean, healthy mouth.
By Chauvin & Chauvin, D.D.S.
October 31, 2012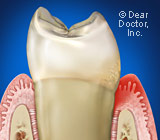 Periodontal or gum disease is an often silent disease that can cause significant damage to the health of your teeth and body. The reason it is so often classified as a silent disease is because it is chronic or longstanding and often without any symptoms or pain that most people associate with a disease until it may be too late.
If you think you may have gum disease, here is what to look for:
Bleeding gums — probably one of the most common and overlooked early warning signs that most people ignore is thinking that the bleeding is being caused by brushing their teeth too hard. The truth is that you would have to brush extremely hard to cause healthy gum tissues to bleed.
Bad breath — something everyone has experienced; however, it can also be a warning sign of periodontal disease. This is especially true for people who hate or refuse to floss their teeth, thereby trapping literally billions of bacteria where they love to collect in the protected areas between the teeth.
Redness, swelling, and/or receding gums — all signs of gum disease often accompanied by sensitivity of the gum tissues around the teeth.
Chronic inflammation — long-standing gum inflammation is a sign that your gum tissues are not healing properly. Periodontal disease exhibits periods with bursts of activity followed by periods where the body tries to recover.
Loose and/or moving teeth — that seem to be drifting into a new position, are visible signs that you are highly likely to have periodontal disease.
Abscess formation — late stage gum disease is characterized by painful, swollen, red pockets of pus, which denotes an acute localized periodontal infection.
If you have any of these signs, you need to make an appointment for a thorough evaluation. Otherwise, you could end up losing your teeth to the second most common disease known to man after tooth decay. To learn more about gum disease, continue reading, "Warning Signs of Periodontal (Gum) Disease." Or, contact us today to schedule an appointment.