Posts for tag: dental implant
By Chauvin & Chauvin, D.D.S.
July 08, 2020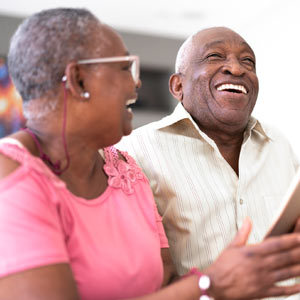 Complete tooth loss is a common condition among older adults, gradually occurring one or two teeth at a time. There often comes a point of realization, though, that all the teeth will eventually be lost.
This can create a dilemma: Do you replace teeth as they're lost, or go ahead and have all of them removed at one time?
Up until recently, the latter choice seemed the most practical and affordable. But most dentists would agree that keeping natural teeth for as long as practical is better for a person's overall oral health and to slow any potential bone loss.
The emergence of dental implants has made this less of a dilemma: We can use this technology to more affordably replace teeth in stages rather than all at once. This is because an implant is technically a root replacement: a dentist inserts a titanium metal post into the jawbone. Because of an affinity with titanium, bone cells grow and adhere to the implant surface, which creates a stronger hold. It also impedes bone loss.
We can, of course, use implants as individual tooth replacements. But the expense of this approach with multiple teeth puts it well out of reach financially for many people. But implants can also be used as connective points between the patient's jaw and other kinds of dental restorations like bridges, partial dentures, and full removable or fixed dentures.
Using this approach, we can adopt a strategy of allowing healthier teeth to remain until it's necessary to remove them. We initially place implants to support a bridge, for example; later we can use the same implants along with additional ones to support a larger restoration, even a fixed full denture.
An implant-supported restoration is typically more expensive than traditional bridges or dentures, but far less than replacing teeth with individual implants. And because the stages of restorations may occur over a long period of time, the cost can be spread out to make it more manageable.
If you're facing a future where it's likely you'll lose all your teeth, you don't have to lose them all at once. Staged restorations with implants could help you hold on to your natural teeth for as long as possible, slow bone loss and make for a healthier mouth.
If you would like more information on the wide array of dental restoration options, please contact us or schedule an appointment for a consultation. You can also learn more about this topic by reading the Dear Doctor magazine article "Replacing All Teeth But Not All at Once."
By Chauvin & Chauvin, D.D.S.
January 20, 2020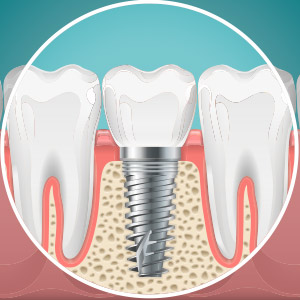 Besides their life-likeness, implants are also prized for their high success rate. More than ninety-five percent of implants continue to function effectively after ten years.
Implants' advanced technology explains some of their reliability and longevity—they're as close to natural teeth as we're now able to achieve. But their impressive success rate also owes to the detailed protocols that dentists follow to install them. One critical part of these protocols is ensuring a patient has enough bone in their jaw to support and precisely situate the implant for the best functional and aesthetic outcome.
Unfortunately, there are situations where a patient doesn't have enough bone to achieve a satisfactory result. This often happens if there's been months or years between losing the tooth and considering an implant. The reason why relates to the nature of bone as living tissue.
Like other cellular tissues in the body, bone has a life cycle: Older, worn-out cells die and are absorbed by the body, and new cells form to replace them. The growth cycle in the jaw receives stimulation from the forces generated when we chew, which travel up through the teeth to the bone.
However, this stimulation stops after tooth loss for the related area of bone, which can slow new bone growth. Over time, the volume and density of the bone around a missing tooth gradually decreases, enough eventually to make an implant impractical.
Insufficient bone volume, though, doesn't necessarily mean an implant is out of the question. We may be able to address the problem by attempting to regenerate the bone through grafting. This is a procedure in which we insert graft material into the affected area of the jawbone. The graft then becomes a scaffold upon which bone cells can grow.  After several months, we may have enough regenerated bone to support an implant.
If there's been too much bone loss, we may still need to consider another form of restoration. But if we can successfully build up the bone around your missing tooth, this premier restoration for replacing lost teeth could become a reality for you.
If you would like more information on dental implants, please contact us or schedule an appointment for a consultation.
By Chauvin & Chauvin, D.D.S.
December 30, 2014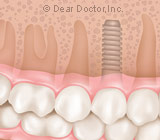 A dental implant as a permanent replacement for a missing tooth can match or even look better than your original tooth. How this happens takes knowledge, skill, experience, and even some art.
Here are some of the factors involved:
Bone quantity and quality: To look and function like an original tooth, an implant must be supported by an adequate base of (jaw) bone and gum tissue. Bone has a tendency to melt away or resorb after a tooth is lost. Using new bone grafting techniques can help minimize the bone loss that occurs during healing at the extraction site. Bone grafting can also be used to rebuild lost bone at the implant site.
Adequate bone supporting neighboring teeth: If you lose bone that supports teeth on either side of an implant, the papillae (the little pink triangles of gum tissue between the teeth) may not regenerate after the implant is placed.
Your inborn tissue type: If your gum tissues are thin and delicate rather than thick and robust, they will be more difficult to work with. To ensure that there is sufficient gum tissue support, (gum) grafting may be necessary.
Using the temporary crown as a template: A dental implant actually replaces a tooth root. Most dental implants are made of commercially pure titanium, which fuses with the bone in your jaw, making it very stable. The crown, the part of the tooth that is visible above the gum line, is attached to the implant; a customized temporary crown can be fitted to the implant. The temporary crown is a trial for the final crown. It can be used to assess color, shape, the appearance of your smile, and the implantâ??s function in your bite and speech. It gives you the opportunity to decide about design adjustments before the final, permanent crown is placed.
The skill, experience, and collaboration of your dental team: Each situation is different. The final success of your implant depends on your pre-surgical assessment and diagnosis, as well as how the surgical and restorative phases of treatment are performed. The use of an outstanding dental laboratory is vital to a successful result.
Contact us today to schedule an appointment for an assessment or to discuss your questions about dental implants. You can also learn more by reading the Dear Doctor magazine article "Matching Teeth & Implants."