Posts for tag: dental injury
By Chauvin & Chauvin, D.D.S.
February 19, 2020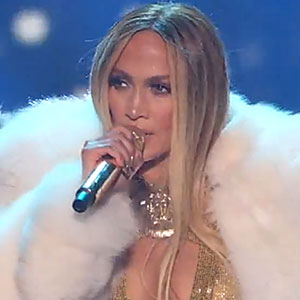 Whether she's singing, dancing or acting, Jennifer Lopez is a performer who is known for giving it all she's got. But during one show, Lopez recently admitted, she gave a bit more then she had planned.
"I chipped my tooth on stage," she told interviewers from Entertainment Tonight, "and had to finish the show….I went back thinking 'Can I finish the show like this?'"
With that unlucky break, J-Lo joins a growing list of superstar singers—including Taylor Swift and Michael Buble—who have something in common: All have chipped their teeth on microphones while giving a performance.
But it's not just celebs who have accidental dental trouble. Chips are among the most common dental injuries—and the front teeth, due to their position, are particularly susceptible. Unfortunately, they are also the most visible. But there are also a number of good ways to repair chipped, cracked or broken teeth short of replacing them.
For minor to moderate chips, cosmetic bonding might be recommended. In this method, special high-tech resins, in shades that match your natural teeth, are applied to the tooth's surface. Layers of resin, cured with a special light, will often restore the tooth to good appearance. Best of all, the whole process can often be done in just one visit to the dental office, and the results can last for several years.
For a more permanent repair—or if the damage is more extensive—dental veneers may be another option. Veneers are wafer-thin shells that cover the entire front surface of one or more teeth. Strong, durable and natural-looking, they can be used to repair moderate chips, cracks or irregularities. They can also help you get a "red-carpet" smile: brilliant white teeth with perfectly even spacing. That's why veneers are so popular among Hollywood celebs—even those who haven't chipped their teeth!
Fortunately, even if the tooth is extensively damaged, it's usually possible to restore it with a crown (cap), a bridge—or a dental implant, today's gold standard for whole-tooth replacement. But in many cases, a less complex type of restoration will do the trick.
Which tooth restoration method did J-Lo choose? She didn't say—but luckily for her adoring fans, after the microphone mishap she went right back up on stage and finished the show.
If you have a chipped tooth but you need to make the show go on, please contact us or schedule an appointment for a consultation. You can also learn more by reading the Dear Doctor magazine articles "Artistic Repair of Chipped Teeth With Composite Resin" and "Porcelain Veneers."
By Chauvin & Chauvin, D.D.S.
December 31, 2013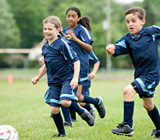 They work hard, and put in lots of time on the field and at home. They learn the rules of the game — as well as the unwritten rules of sportsmanship and teamwork. They receive the proper training, and wear appropriate protective equipment. But sometimes, in spite of everything, kids who participate in sports can be subject to injury. Fortunately, in today's dentistry there are a variety of treatments, as well as preventive measures, which can help.
When faced with serious dental injury, time is of the essence in saving teeth. So, don't delay — come in to see us immediately! If treated promptly, it's possible for teeth which have been dislodged — or even knocked out of the mouth — to be put back in position and stabilized. Afterwards, follow-up treatment will ensure that the tooth has the best chance of recovery.
The treatment of kids' dental injuries is sometimes different than that of adults. For example, in adults, a root canal would generally be necessary, followed by a tooth restoration (crown). But some kids may not need this treatment, since their teeth are still developing. Also, replacing a missing primary (baby) tooth may not be recommended, since it may hinder development of the permanent teeth. Based on his or her individual circumstances, we can develop an appropriate treatment plan for your child.
Luckily, the most common dental injuries aren't nearly as serious — they typically involve chipped or cracked teeth. Most can be repaired by reattaching the broken piece, or using a tooth-colored restoration. If a large part of the structure of a permanent tooth is missing, a crown or "cap" may be placed on the visible part, above the gum line. Smaller chips, even in primary teeth, can be successfully repaired by cosmetic bonding with composite resin materials.
Finally, if your child is involved in athletic activities — or if you are — consider obtaining a custom-made mouthguard. Numerous studies have shown that this protective gear can help prevent many dental injuries. Unlike the off-the-shelf types found in some sporting-goods stores, the ones we provide are individually fabricated from an exact model of the teeth. They're strong, fit comfortably, and offer superior protection at a reasonable cost.
If you have questions about the treatment of sports-related dental injuries, or about mouthguards, please contact us or schedule an appointment for a consultation. You can learn more in the Dear Doctor magazine articles "Trauma & Nerve Damage to Teeth" and "Mouthguards."
By Chauvin & Chauvin, D.D.S.
December 12, 2013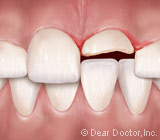 Tooth decay and other oral diseases aren't the only dangers your teeth face — accidental injuries also pose a risk. Fortunately, much can be done to save injured teeth, if you act quickly.
Dental injuries where part of the enamel crown has chipped off are the most common. Even if only one tooth appears damaged, adjacent teeth and bone might also have been damaged internally. Most chip injuries can be repaired either by reattaching the broken crown or with a tooth-colored filling or veneer. If the damage has extended into the inner tooth pulp then a root canal treatment might ultimately be necessary.
Teeth that have been knocked loose from normal alignment (dislodged) or where the entire tooth with its root has separated from the socket (avulsed) are rare but severe when they occur. It's imperative to see a dentist as soon as possible — even more than five minutes' of elapsed time can drastically reduce the tooth's survivability. Dislodged teeth are usually splinted to adjacent teeth for several weeks; we would then carefully monitor the healing process and intervene with endodontic treatment (focused on the tooth's interior) should something unfavorable occur.
With the possible exception of a primary (baby) tooth, an avulsed tooth should be placed back in the socket as soon as possible. This can be done by someone on scene, as long as the tooth is handled gently, the root not touched, and the tooth rinsed with cold, clean water if it has become dirty. If no one is available to do this, the tooth should be placed in milk to avoid drying out the root, and the patient and tooth transported to a dentist immediately. Once in the socket, the treatment is similar as for a dislodged tooth with splinting and careful watching.
The damaged tooth should be checked regularly. Your body's defense mechanism could still reject it, so there's a danger the root could be eaten away, or resorbed. Some forms of resorption can't be treated — the aim then is to preserve the natural tooth for as long as possible, and then replace it with a life-like restoration to regain form and function.
If you would like more information on the treatment of injured teeth, please contact us or schedule an appointment for a consultation. You can also learn more about this topic by reading the Dear Doctor magazine article "Trauma & Nerve Damage to Teeth."