Posts for tag: laser dentistry
By Chauvin & Chauvin, D.D.S.
February 19, 2015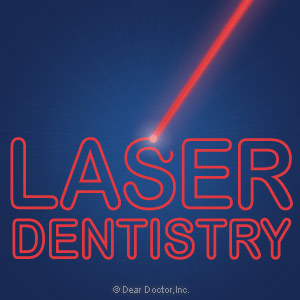 Lasers have transformed our everyday lives, especially in healthcare. These intense beams of light of a single wavelength have revolutionized all manner of diagnostics and treatments, from general surgery to cosmetic therapy.
Dentistry has also been influenced by the laser revolution. Here are just a few of the areas where they're growing in use and popularity.
Early disease detection. Laser instruments can take advantage of "fluorescence," the tendency of bacteria to "glow" when exposed to certain wavelengths of light. This is proving more effective in detecting early tooth decay in pits and fissures (very tiny areas in a tooth's biting surface) than traditional needle-like probing instruments called dental explorers. Newer lasers can now detect the same fluorescent qualities in soft tissues, which may reduce the detection time for oral cancer and make the difference between life and death.
Dental caries treatment. Lasers have become an alternative to the dental drill in treating teeth with dental caries (decay). Although with larger cavities lasers are somewhat slower than the conventional drill, they truly shine when it comes to early enamel caries and small cavities because they can be quite precise in the amount of tooth structure they remove. This feature allows them to be less invasive than a dental drill.
Periodontal treatment. Periodontal (gum) disease is an infection caused mainly by bacterial plaque and calculus (hardened plaque deposits) that have adhered to tooth surfaces. Lasers are emerging as an alternative to conventional periodontal (gum) surgery to treat voids or spaces below the gum line called periodontal pockets that have formed because of gum tissue detachment as supporting bone is lost. With their ability to target and destroy infected tissue without damaging nearby healthy tissue, lasers can achieve similar outcomes as traditional techniques but with less tissue damage and discomfort to patients afterward.
Research and development into laser technology continues to perfect these and other applications that promise to make dental procedures less invasive and more comfortable for patients.
If you would like more information on the use of lasers in dentistry, please contact us or schedule an appointment for a consultation.
By Chauvin & Chauvin, D.D.S.
January 15, 2013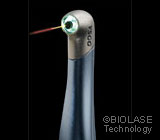 For years, lasers have revolutionized the medical industry and now they are beginning to do the same within the field of dentistry. However, anytime new technologies are introduced, people naturally will have questions. Here is a list of frequently asked questions (FAQs).
What is a laser?
Lasers are beams of light that are a single wavelength and color. Laser is an acronym derived from "Light Amplification by Stimulated Emission of Radiation."
How are they different from regular sunlight?
White light is made up of light with many wavelengths corresponding to the visible spectrum comprising the rainbow (red, orange, yellow, green, blue, indigo, and violet). Laser light consists of beams of a single color and hence a single wavelength of light, concentrated to a high energy level, which can penetrate living tissue.
How are they used in dentistry?
Dental laser usage typically falls into three categories: disease diagnosis; soft tissue procedures of the gums, lips and tongue; and hard tissue procedures of the bone or tooth enamel and dentin. Examples of the most common hard tissue treatments include the diagnosis and removal of tooth decay, while the most common soft tissue treatments include the removal of gum tissue as it relates to cosmetic dentistry and the treatment of gum disease.
Are they safe?
Absolutely! Before blazing a trail in the field of dentistry, lasers have been used for years in the medical field with research evidence and the FDA approving both their safety and efficacy. In fact, they are minimally invasive and can result in less tissue removal, less bleeding and less discomfort for patients after surgery. And what could be better than that?
Want to learn more?
To learn more about lasers and how they are used in dentistry, read the article "Lasers Shine A Light On Dentistry." And if you want to schedule an appointment, contact us today.