Posts for tag: sports dentistry
By Chauvin & Chauvin, D.D.S.
September 10, 2012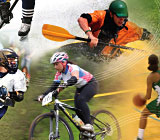 A recent study revealed that on average there are 22,000 dental injuries in children under the age of 18. This alarming reality makes it clear that parents, caregivers, and coaches need to understand the risks for dental injuries so that they are best equipped to prevent them...or at least be prepared to manage one should it occur. The four most common categories for measuring risks associated with sports injuries are:
Age: Age is an important factor when accessing risk. Sports-related dental injuries tend to spike during the teenage years. Recent research shows that children under the age of 13 tend to not be injured as often.
Gender: Gender is probably the second most influential factor. The facts are that males top the list for experiencing dental injuries during sports or vigorous activities. However, more and more females are playing highly competitive and contact sports or activities; thus, their risk of injury is increasing.
Shape and position of your teeth: Both the condition and positions of the teeth affect their risk of injury. More prominent or "buck" teeth are considered a higher risk for injury than teeth in a more normal position. Furthermore, 80% of all dental injuries involve the upper front teeth.
Sports type: This last category is the one most often asked about, as parents, caregivers and athletes want to know which sports or activities have the highest risks for dental injuries. And while baseball and basketball top the list, the American Dental Association (ADA) has put together a comprehensive list of sports and activities. To review this list, read the Dear Doctor article, "Athletic Mouthguards." The ADA also urges athletes to wear professionally-fitted mouthguards to protect against dental and facial injuries.
Knowing the above categories can help you assess your risk for a dental injury while playing in a sport or recreational activity. To learn more about sports-related dental injuries, read, "An Introduction To Sports Injuries & Dentistry." Or if you have a traumatized, damaged, chipped or missing tooth from a sports or any other type of injury, contact us to discuss your situation or to schedule an appointment.
By Chauvin & Chauvin, D.D.S.
August 23, 2012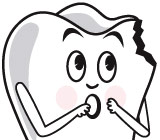 Nearly every parent and caregiver has experienced that almost instantaneous sick feeling when they see that their child has been injured, especially when it is an injury to the mouth and teeth. For some, it is just a bloody lip; however, if the accident chipped a tooth, then you may have a completely different situation on your hands. If the nerve of the tooth has not been damaged, you needn't worry too much — a composite (plastic) tooth-colored restoration that is actually bonded to the tooth is an ideal material for repairing most broken or chipped teeth. See us as soon as possible to assess the extent of injury, so that proper and appropriate action can be taken.
An additional reason why bonding with composite resin may be the ideal choice for repairing a child's chipped tooth is that it can be custom created in virtually any shade so that it perfectly matches the damaged tooth and the surrounding teeth. It is also far less expensive than a crown, an important factor to consider when repairing a primary (baby) tooth that will eventually fall out to make room for a permanent tooth. If the injury is to a permanent tooth, a composite resin still may be ideal to use as a restoration until your child or teenager has stopped growing or playing contact sports. This is because your teenager may be too young for a more permanent restoration such as a crown or porcelain veneer.
An important, proactive step you can take to be prepared for the next time your child has a dental injury is to download Dear Doctor's Field-side Pocket Guide for Dental Injuries. This handy, quick reference guide is a must have for athletes, parents, caregivers, teachers, coaches or anyone who is often in an environment where a mouth injury is likely to occur. Knowing what to do and how quickly you must respond can make the critical difference between saving and losing a tooth.