Posts for tag: toothache
By Chauvin & Chauvin, D.D.S.
June 10, 2014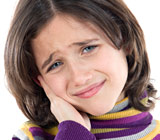 It can be daunting for parents to know just what to do when their child complains of an ache or pain. What if your child tells you their tooth hurts — is that cause for alarm? That's actually not so easy to determine, but there are some things you should do when your child has a toothache.
First, try to determine from your child exactly where the pain is coming from and how long it's been hurting. Look for an apparent cause for the pain: the most common is tooth decay, considered a type of infection caused by bacteria, and normally indicated by brown spots or tiny holes (cavities) on the biting surfaces or between teeth. Look for swelling or tenderness in the gum tissues, a sign of a possible abscess. Debris caught between teeth may also cause pain.
The pain might stem from an injury. Though the lips and outer tissues may appear fine, a blow to the face or other traumatic incident may have damaged the teeth. Without treatment, pulp tissue within a traumatized tooth may die and lead to an infection and potential tooth loss.
If you see any of these signs or symptoms, or the pain keeps your child up at night or continues into the next day, you should contact our office as soon as possible so that we can do a full evaluation of the tooth. In the meantime, there are some things you can do to help lessen the pain. First, clean the teeth to remove any debris. Administer ibuprofen or acetaminophen (in the proper dosage for a child) for pain relief. An ice pack against the jaw may also help, but alternate on and off in five-minute intervals to prevent burning the skin with the ice.
If these steps stop the pain within an hour, you can wait until the next day to make an appointment. If not, this may be indicative of an abscess forming and you should not delay contacting our office. The quicker we can properly diagnose and begin treatment, the less chance your child will suffer from any long-term damage to their teeth.
If you would like more information on caring for a child's toothache, please contact us or schedule an appointment for a consultation. You can also learn more about this topic by reading the Dear Doctor magazine article "A Child's Toothache."
By Chauvin & Chauvin, D.D.S.
March 04, 2014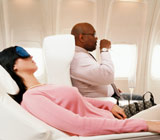 People who fly or scuba dive know firsthand how changes in atmospheric pressure can affect the body: as minor as a popping in the ears, or as life-threatening as decompression sickness. Pressure changes can also cause pain and discomfort in your teeth and sinuses — in fact, severe pain could be a sign of a bigger problem.
Barotrauma (baro – "pressure;" trauma – "injury"), also known as a "squeeze," occurs when the unequal air pressures outside and inside the body attempt to equalize. Many of the body's organs and structures are filled with air within rigid walls; the force created by equalization presses against these walls and associated nerves, which in turn causes the pain.
The sinus cavities and the middle ear spaces are especially sensitive. Each of these has small openings that help with pressure equalization. However, they can become swollen or blocked with mucous (as when you have a head cold), which slows equalization and contributes to the pain.
It's also possible to experience tooth pain during pressure change. This is because the back teeth in the upper jaw share the same nerve pathways as the upper jaw sinuses — pain originating from the sinuses can be felt in the teeth, and vice-versa. In fact, it's because of this shared pathway that pressure changes can amplify pain from a tooth with a deeper problem, such as a crack, fracture or a defect in dental work.
Besides problems with your teeth, the severe pain could also be related to temporo-mandibular joint dysfunction (TMD), which is pain or discomfort in the small joint that connects your lower jaw to your skull. There are a number of causes for this, but a common one for scuba divers is an ill-fitted regulator mouthpiece that they are biting down on too hard while diving. A custom-fitted mouthpiece could help alleviate the problem.
If you've been experiencing tooth pain during pressure change events, you should see us for an examination before you fly or dive again. There might be more to your pain — and correcting these underlying problems could save you extreme discomfort in the future.
If you would like more information on the effects of atmospheric pressure changes on teeth, please contact us or schedule an appointment for a consultation. You can also learn more about this topic by reading the Dear Doctor magazine article "Pressure Changes Can Cause Tooth & Sinus Pain."
By Chauvin & Chauvin, D.D.S.
June 03, 2012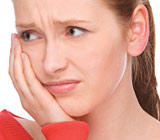 Tooth pain occurs when a trauma or infection triggers a reaction from the nerves inside a tooth's pulp chamber. The severity of the pain and its duration can vary depending on the underlying cause, which can include anything from a loose filling to an abscess. Ignoring symptoms not only results in unnecessary physical and emotional pain, but can also lead to more expensive dental treatment as problems become more complex. Make an appointment with our office today if you are experiencing any of the following symptoms:
Sharp pain when biting down on food — This type of pain could be indicative of a cracked tooth, loose filling, or tooth decay that is affecting one or more of your teeth. We can remove decay and replace a loose filling, but if your tooth is cracked, we will have to determine the location and depth of the crack before formulating a treatment plan. In some cases, root canal treatment or even extraction may be necessary.
Pain that lingers after eating hot or cold foods or liquids — Mild and short-term sensitivity (lasting only seconds or a minute) to hot and cold foods resulting from gum recession can often be soothed by using a fluoride toothpaste made for sensitive teeth. However, an inflamed tooth pulp or one that is dying due to severe decay could cause sensitivity that lingers for a long time after exposure. In this case, root canal treatment may be necessary to remove dying pulp tissue in order to save the tooth.
Constant severe pain and pressure, swelling of the gums, and sensitivity to touch — Infections and/or abscesses can spread from the tooth pulp into the surrounding periodontal tissues and bone causing this type of pain. Root canal treatment will most likely be required.
Dull ache and pressure on one or both sides of the face in the upper teeth region — The sinuses and upper back teeth share the same nerves, so, oftentimes, referred pain from sinus congestion or infection can feel like a toothache. A thorough examination can determine whether or not the pain is dentally related.
If you are experiencing tooth pain, call our office immediately so that we can begin to provide you with some relief. To read about other symptoms of tooth pain and possible treatment options, read the Dear Doctor magazine article "Tooth Pain? Don't Wait!"