Posts for tag: x-rays
By Chauvin & Chauvin, D.D.S.
December 08, 2015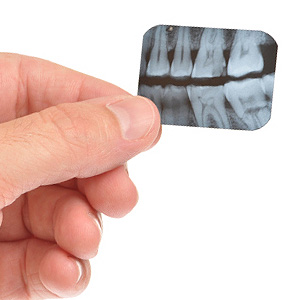 One of the most widely used forms of dental imaging is the bitewing x-ray. So called because of the shape of the device that holds the exposable film a patient clenches between their back teeth, the bitewing x-ray is an effective means for detecting the earliest stages of tooth decay.
These early signs are small lesions on a tooth surface caused by mineral loss in the enamel. While we can identify them on front teeth through visual examination or bright lighting, they're nearly impossible to see on the biting surfaces of back teeth. The bitewing x-ray solves this problem.
During the procedure, a narrow beam of x-rays is directed at the back teeth area. Since X-rays can transmit through solid matter, they pass through the teeth and gums to expose the film attached to the bitewing assembly.
X-rays pass through matter at different rates depending on the density of the tissue — a slower rate for harder tissues like teeth and bone and a faster rate for soft tissues like the gums. As a result, x-rays through teeth expose less of the film and appear as a lighter image than the gums. This difference is so precise even a tooth's softer dentin appears slighter darker than its harder outer enamel.
This precision helps us identify decay lesions. Because the lesions on the enamel are less dense than the normal enamel, they'll appear as dark spots. By detecting them at this stage we have a better chance for reversing the effects of decay or at least minimizing damage that's already occurred.
Because x-rays emit radiation, there's a natural concern about over-exposure and we go to great lengths to reduce it. Children may undergo a bitewing x-ray twice a year for developing teeth, while adults with healthy teeth are typically x-rayed just once a year. Advances in digital film and other technology have also helped lower the exposure rate.
Today's standard 4-film bitewing x-ray produces about four days worth of what we receive on average from normal background radiation, so the health risk is quite negligible. The benefit, on the other hand, is much greater — the early detection of tooth decay could ultimately save a tooth.
If you would like more information on the use of bitewing x-rays in dental care, please contact us or schedule an appointment for a consultation.
By Chauvin & Chauvin, D.D.S.
December 01, 2014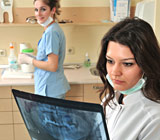 Because our main goal is to help you maintain optimal oral health, we use the latest proven technologies, techniques, and treatments to ensure we achieve them. One tool, radiographs or x-ray pictures, has been around for a long time with an inordinate amount of scientific research backing up both its safety and value. Here's a brief summary of why.
X-rays are a form of electromagnetic radiation just like natural daylight, except that they can easily penetrate soft bodily tissues, such as skin and muscles, without causing any harm if used properly. And as you may have guessed, we use them to examine what we can't see with the naked eye. For example, they enable us to see inside tooth structure, bones, and joints of the jaws. This ability makes x-rays a critical tool that we rely upon to monitor your oral health.
How often you need x-rays really depends upon your individual health needs and often is different from family member to family member given their age and oral health. During adolescence, we may need to take x-rays more often, so we can closely monitor the development of the teeth and jaw to check for normal growth and abnormalities, which can be corrected with early diagnosis. We may also need to use x-rays to diagnose trauma if you or any family member has experienced injury or disease. This will enable us to ensure the correct treatment is given and, in fact, is working and that there are no other related concerns.
Today's ultra-sensitive technology uses extremely low dosage x-rays and ensures early diagnosis and monitoring of your oral and dental health in safety and with confidence.
Learn more about the safety of x-rays by reading the Dear Doctor magazine article "X-ray Frequency And Safety." If you need to schedule an appointment, contact us today.
By Chauvin & Chauvin, D.D.S.
October 22, 2012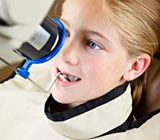 Yes, dental x-rays are a safe and vital tool we use for measuring and monitoring your oral health. We feel it is imperative to ensure that our patients have the facts — especially when it comes to their oral healthcare. This is why we want to respond to this important question about the safety of dental x-rays.
We want you to know what they are, how they are used, what makes them a safe and effective tool, and why they are so important to dentistry and your health. X-rays are a form of electromagnetic radiation, in fact, just like natural daylight, except they have a much shorter wavelength. And because they are a form of ionizing radiation, they can easily penetrate bodily tissues without causing any harm when used properly. The reasons we use them are obvious; they help us literally see what is unseen. For example, they enable us to see bone structure and roots of teeth among other things, and are commonly used for diagnosing tooth decay. Furthermore, today's x-ray machines and other image capturing techniques are so sophisticated and sensitive that the amount of radiation required for diagnosis is almost nothing when compared to what you get from the background radiation present in everyday living. In fact, the average single digital periapical ("peri" – around; "apical" – root end of a tooth) film is equal to 1/10 the amount of everyday natural environmental exposure. These facts make it clear that dental x-rays are completely safe and, thus, are nothing you need to be concerned about.
Learn more about this topic by reading the Dear Doctor magazine article "X-ray Frequency And Safety." If you need to schedule an appointment, contact us today.