Posts for: May, 2013
By Chauvin & Chauvin, D.D.S.
May 30, 2013
You've probably heard that thumb sucking can be harmful to your child's mouth, but do you know why?
Keep in mind that thumb sucking is completely normal in children up to a certain age. In fact, 95% of babies suck their thumb! This is because it provides them with a sense of security and a way to test and learn about their new world. The American Academy of Pediatric Dentistry recommends that parents and caregivers encourage children to cease this habit by age three.
Many children stop sucking thumbs by themselves between the ages of two and four. However, if you are having issues getting your child to stop after this point, you should inform us at your next appointment. Thumb sucking can actually block your child's front teeth from fully erupting and can also push the teeth forward. The number of hours per day and how much pressure your child applies will affect how far out of position the teeth end up. Excessive thumb sucking can also cause your child's jaw to develop incorrectly. This is why it is so important to stop sucking habits before permanent teeth start to erupt.
There are many creative ways that you can help your child cut back and eventually stop sucking his or her thumb. You might try to implement some behavioral management techniques, such as offering rewards after your child goes a length of time without thumb sucking. If your child is old enough to understand consequences, you can simply try explaining what will happen if he or she keeps up with this habit. If you continue to have trouble, speak with us at your next appointment and we can discuss other options, such as a mouth appliance that blocks this habit.
If you would like more information about thumb sucking, please contact us or schedule an appointment for a consultation. You can also learn more by reading the Dear Doctor magazine article "How Thumb Sucking Affects the Bite."
By Chauvin & Chauvin, D.D.S.
May 15, 2013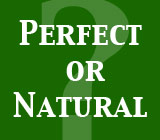 Are you unhappy with the appearance of your smile? Do you get anxious about smiling in social settings? Have you ever wished you had teeth like your favorite celebrity? If you have answered yes to any of these questions it might be time to discuss a smile makeover with us!
During our initial meeting we will ask you exactly what look you are hoping to achieve. Open communication will help ensure ultimate success and satisfaction — you need to tell us what you want and we need to tell you what is actually possible. Then we can plan a solution that is both aesthetically pleasing and functional.
We will also decide which cosmetic materials and techniques to use; this can range from composite resins (tooth-colored fillings), porcelain veneers (thin layers of dental ceramic that are bonded to your tooth enamel) or porcelain crowns (which replace the entire external form of a tooth).
Essentially, most people seem to want one of two looks — a "perfect" Hollywood smile or a more "natural" look. For those who want a "perfect" smile, we will focus on achieving symmetry so that your smile appears perfectly balanced. We will also focus on achieving uniform and maximum tooth brightness and whiteness.
For those who want a more "natural" smile, we can enhance your smile by gently improving brightness while maintaining a more normal symmetry to each tooth shape and size. This can produce a more elegant, youthful smile, not just a Hollywood white smile. We can also maintain slight color, shape and shade variations throughout your mouth.
The best tool for testing our vision is with the use of a tool we call a "provisional restoration." During this phase of the process we will actually create your new smile using temporary materials, allowing you to "test drive" your new look before committing to permanent materials. This way we can make sure you get exactly what you want. Once you give us the green light, these restorations will be replaced with your permanent new teeth.
Call our office today so we can get started! For more information on the importance of communication between dentist and patient during a smile makeover, read the Dear Doctor magazine article "Great Expectations: Is What You Get What You Want?"