Posts for: July, 2014
By Chauvin & Chauvin, D.D.S.
July 23, 2014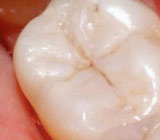 Q: I've never heard these terms used in dentistry. What are they?
A: In the decorative arts, an inlay refers to a small piece of distinctive material that's set into a larger matrix: a mother of pearl accent worked into the lid of a wooden box, for example. In dentistry, it means something similar: a filling (or restoration) that's fabricated in a dental laboratory, and then set into a tooth in an area that has been damaged or lost.
Q: What's the difference between inlays and onlays?
A: An inlay is made to fit in between the cusps (small points or ridges) of a back tooth (molar or premolar), and it covers only a small region of the biting surface of the tooth. If the restoration covers one or more of the cusps, it's an onlay.
Q: Why would I need to have one of these restorations?
A: When a tooth has suffered damage (from decay or trauma, for example), and the affected area is too large to fill with a simple filling — but not large enough to need a full crown (cap) — then an inlay or onlay may be just right. Both of these procedures are considered "indirect fillings," because the restoration itself is custom-fabricated in a laboratory and then bonded to the tooth in the dental office.
Q: What is the procedure for getting an inlay or onlay?
A: It's similar to having a crown placed, in that it typically takes more than one office visit — yet an inlay or onlay involves less removal of tooth structure than a crown would require. On the first visit, after the area has been anesthetized (usually with a numbing shot), any decay is removed, and the tooth is shaped to receive the restoration. Next, a model of the tooth is made (either with putty or in digital form), and the tooth receives a temporary filling. The laboratory uses this model to create the actual inlay or onlay, which may take a few days; it is then permanently attached to the tooth on a second visit to the office. However, with today's advances in CAD/CAM (computer aided design/ manufacturing) technology, some inlays or onlays can be made in the office and placed in the same visit.
Q: What else do I need to know about these tooth restorations?
A: Both inlays and onlays are strong and long-lasting restorations that need no more care than you would normally give your teeth: namely, regular brushing and flossing, and periodic checkups at our office. But because they don't require the removal of a great deal of natural tooth material, they are considered relatively conservative treatments. After a thorough dental examination, we can recommend the type of tooth restoration that's most appropriate in your individual circumstances.
If you'd like to find out more about inlays or onlays, please contact us or schedule an appointment for a consultation. You can also read the Dear Doctor magazine articles "Porcelain Crowns & Veneers" and "The Natural Beauty of Tooth Colored Fillings."
By Chauvin & Chauvin, D.D.S.
July 15, 2014
Nothing says confidence like a bright, beautiful smile. But problems with your teeth's appearance — discoloration, abnormal shapes, or gaps — may be giving you reasons not to smile. If so, you may be a candidate for porcelain veneers.
A veneer is a thin covering of porcelain or other dental material permanently attached to the face of a tooth to improve its appearance. Veneers help resolve a variety of aesthetic issues: their life-like color can brighten dull, stained teeth; they can "lengthen" shortened teeth caused by wear or normalize congenitally misshapen teeth; they're also helpful in reducing small gaps or used in conjunction with orthodontics for more serious misalignments.
The first step to a better smile with veneers is to assess your teeth's current condition and develop a treatment plan. Your input is extremely important at this stage — what changes you believe would improve your smile. We would also offer valuable insight, based on our knowledge and experience, into what is realistically possible and aesthetically appealing regarding porcelain veneers.
Once you have decided to go forward, the next step is to prepare the teeth for attaching the veneers. Depending on their size and location, this preparation can range from no tooth structure removal to a relatively small amount of structure. If the latter is needed, we remove only what's necessary to achieve the aesthetic result since structural reduction isn't reversible.
After preparing an impression of your teeth, we would send it and other instructions to a dental technician to create the permanent veneers. In the meantime, we'll install a temporary set for you to wear while the permanent set is under construction.
Once we attach the permanent veneers, they will adhere so securely a drill or laser would be needed to remove them. We achieve this attachment by creating microscopic pores on the face of the teeth and the inside of the veneer with a mild acid solution. The bonding cement seeps into these pores and creates a strong bond that virtually unites the tooth and veneer into one.
Although your new veneers are made to last, you'll need to maintain them like your other teeth, with a little added caution when biting and chewing. All in all, though, you'll be able to smile again with confidence — for many years to come.
If you would like more information on porcelain veneers, please contact us or schedule an appointment for a consultation. You can also learn more about this topic by reading the Dear Doctor magazine article "Porcelain Veneers."